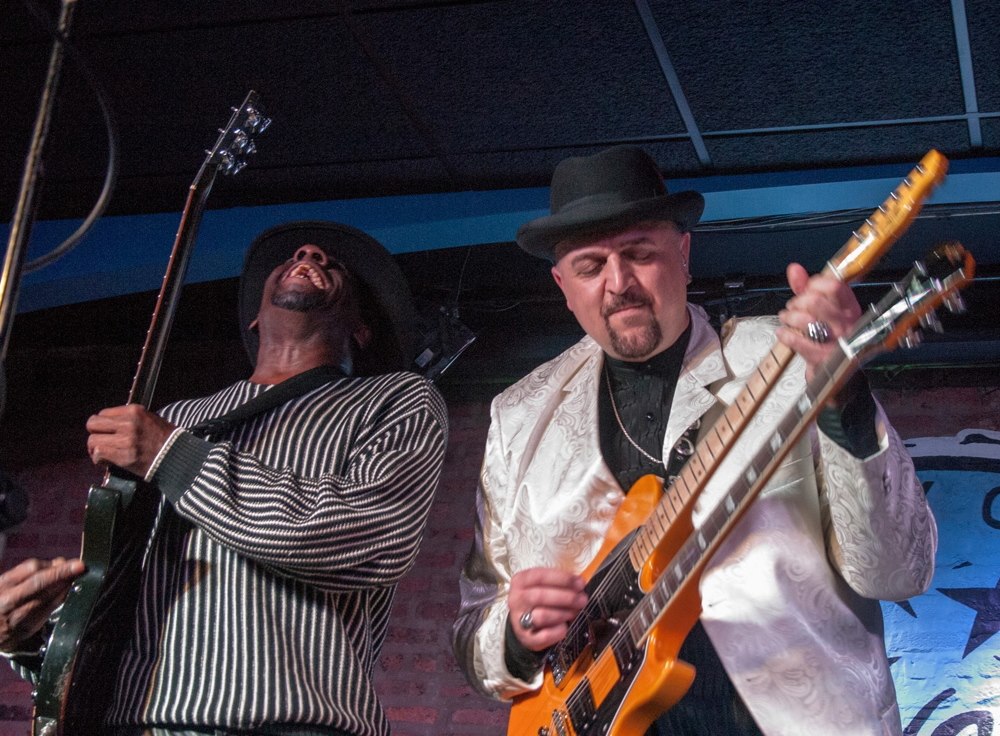 For those of you who like to read …..
We've gotten some pretty good press over the past few years and we'd like to share it with those of our fans who love to read. Just click on the buttons below and new pages will open to various online publications. Be sure to come back -we'll be posting new material soon!
Did you know we have our own Wikipedia page? If you want to read all about us there – just hit the button.
Chicago Blues All-Stars Continue to Breathe New Life into the Music Scene
By ERIC SCHELKOPF

Chicago Blues All-Stars is a band with a heart of gold.

When he is not on stage, Chicago Blues All-Stars frontman Daniel "Chicago Slim" Ivankovich is an orthopedic surgeon who donates his services around the Chicago area and world.

He is joined on stage by guitarist "Killer" Ray Allison, who has played with the likes of Muddy Waters, Buddy Guy, Koko Taylor and Junior Wells.
Chicago Blues All-Stars: Red, Hot & Blue Review
Chicago Blues All-Stars are a funky, energetic musical revue that celebrates the blues genre, both past and present. Frontmen "Killer" Ray Allison and Daniel "Chicago Slim" Ivankovich are two seemingly omnipresent figures in blues rock. Allison has been on a regular touring circuit over the past four decades, and has been a key musical figure in the bands of James Cotton, Buddy Guy & Junior Wells, and Muddy Waters. Chicago Slim has also led a reputable life of blues, playing alongside such legendary artists as Chuck Berry, John Lee Hooker, and Stevie Ray Vaughan. In addition to these two musical masters, the revue features the All-Star Horns section, led by R&B veteran Johnny Cotton. The new album Red, Hot & Blue is a testament to the passion these musicians have for the genre and their dedication to keeping blues alive.
Chicago Blues All-Stars Live & Burnin' at Kingston Mines in Chicago
The Chicago Blues Allstars are made up of some of the best blues musicians in Chicago. W.C. Handy Award winner "Killer" Ray Allison takes on the guitar. Allison is a Chicago blues staple who played with Muddy Waters, James Cotton and more. Scott Dirks plays harmonica and vocals. Dirks wrote what many consider to be the quintessential biography on Little Walter, and produced albums for Lurrie Bell. W.C. Handy award winner and Chicago Blues powerhouse Deitra Farr, who many consider one of the city's top vocalists. Johnny B. Gayden holds the bass and vocals, one of the top bass players around, who played bass on the legendary album Showdown, with Albert Collins, Robert Cray, and Johnny Copeland. The fabled "Mad Hatter", Roosevelt Purifoy,  lays brilliant piano work. Finally, Dr. Dan Ivankovich, the giant of a Chicago bluesman, both literal and figurative, who's played with Bo Diddley, Otis Rush, Stevie and Jimmie Vaughan, Buddy Guy, and many more. 
CHICAGO BLUES ALL-STARS® are a musical revue that features some of the most talented, entertaining and legendary artists gracing today's music scene. Together they create a singular sound that is uniquely eclectic while drawing on all styles of Americana for inspiration. Leading CBAS are "KILLER" RAY ALLISON and CHICAGO SLIM, whose musical styles reflect their lifelong commitment as blues disciples.
The talent of these performers is only matched by those legendary artists that CBAS has shared the stage and recorded with domestically and internationally. Chicago Blues All-Stars have worked alongside legendary artists such as: Jeff Beck, Chuck Berry, Eric Clapton, Albert Collins, Bo Diddley, Buddy Guy, John Lee Hooker, Albert King, B.B. King, Ohio Players, Rolling Stones, Otis Rush, Koko Taylor, Stevie Ray Vaughan, Muddy Waters, Junior Wells and Johnny Winter.
Chicago Blues All-Stars Are Creating a Bold New Vision for the Blues
Chicago has long been considered the most formidable city to ply your talents as a blues-man. While its streets can be unforgiving, the blues community has become more progressive. These days, a blues lover can walk the streets of Chicago, venturing from club to club enjoying classic blues, blues-rock, soulful blues, funky blues, and of course, the always popular "Chicago Acoustic" blues. Yet even as recently as 25 years ago, those involved in the genre recall a blues scene that was radically different.
Sign up for updates on live performances and new recordings 
Ⓒ 2021 - 2023 All Rights Are Reserved