About Chicago Blues All-Stars
Chicago Blues All-Stars is an American blues band based in Chicago that incorporates elements of funk, soul, R&B and hip hop. Chicago Blues All-Stars is made up of musicians that have been together as friends and musicians for four decades. Chicago Blues All-Stars has received radio play on over 200 stations in 22 countries. Since the album's release in December 2013, the band has remained at the top of ReverbNation's Chicago and US Blues charts. Red, Hot & Blue broke Top 25 on Living Blues Radio Report, as well as reached Top 30 on the Roots Music Report. The album has been listed as number 35 on AirPlay Direct's – All Time Top 50 APD Blues/Jazz/Reggae Album.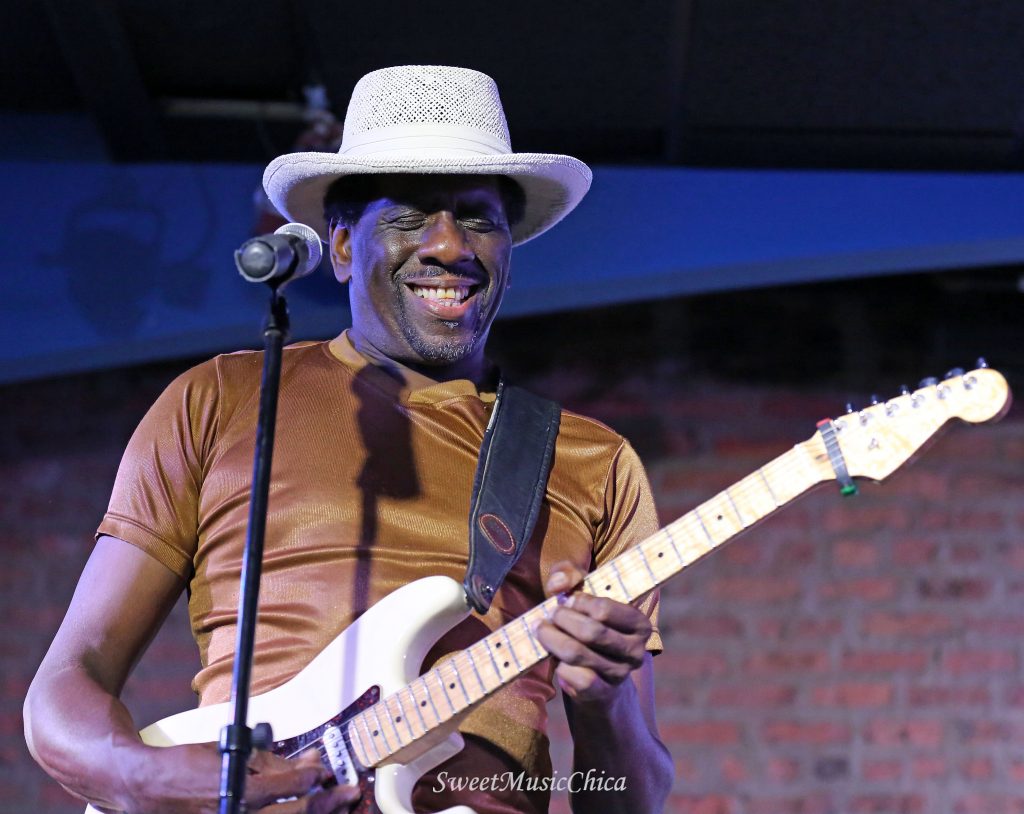 (June 20, 1956 – October 6, 2016)
Allison is renowned as a pioneering blues drummer having played with Muddy Waters, and working as a brilliant sideman with Buddy Guy, Junior Wells, Koko Taylor, and James Cotton. Other artists he performed with include Paul Butterfield, Joe Cocker, and The Rolling Stones. He would turn down offers from Eric Clapton, Gary Moore, and John Mayall to concentrate on his own music. 
Wanting a change, Allison later taught himself guitar, and like his drumming, he played with verve, savoring every moment. His career spanned more than four decades, and in recent years he had been spreading the blues gospel with his own Killer Ray Allison Band, and as a founding member of The Chicago Blues All Stars.
Daniel Ivankovich (aka Chicago Slim)
Dan is an orthopedic trauma surgeon, humanitarian and blues musician/producer. He is best known for his advocacy of the underserved in Chicago's inner city as leader of the Bone Squad, a group of medical professionals who treat the city's uninsured and underinsured.  
He has studied with Chicago legends, Reggie Boyd Sr., Homesick James, Magic Slim, Eddie Taylor Sr. & Junior Wells. His musical career also included a stint as blues disciple and guitarist for legendary bluesman, Otis Rush. He's shared the bill with Albert Collins, James Cotton, Bo Diddley, Buddy Guy & Junior Wells, Albert King, Marshall Tucker Band, Robin Trower, Rare Earth and Johnny Winter among others.
Rounding out his larger-than-life presence as an AOR radio personality, Slim manned the mic at commercial outlets WCKG-FM/Chicago, WNUR-FM/Evanston & WQHT-FM/New York. His "Out Of The Blue" program was syndicated in over sixty markets.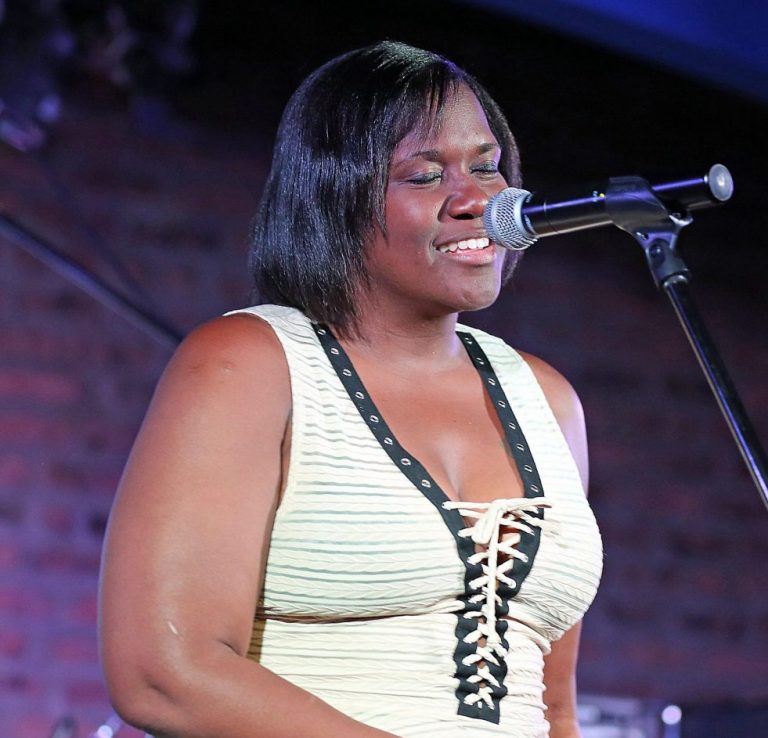 At a young age, Anji Brooks is already a force to be reckoned with on the Chicago Blues Scene. While only in her thirties, she has  assumed duties as lead vocalist for Chicago Blues All-Stars. Brooks' passion for music, matched with her versatile and powerful voice, gives her performances a heart-pounding urgency. Her music comes from deep within her soul and the experiences that have shaped her life. Give her a listen, you'll hear a fresh, new voice that has fans and critics excited about the future of the Blues.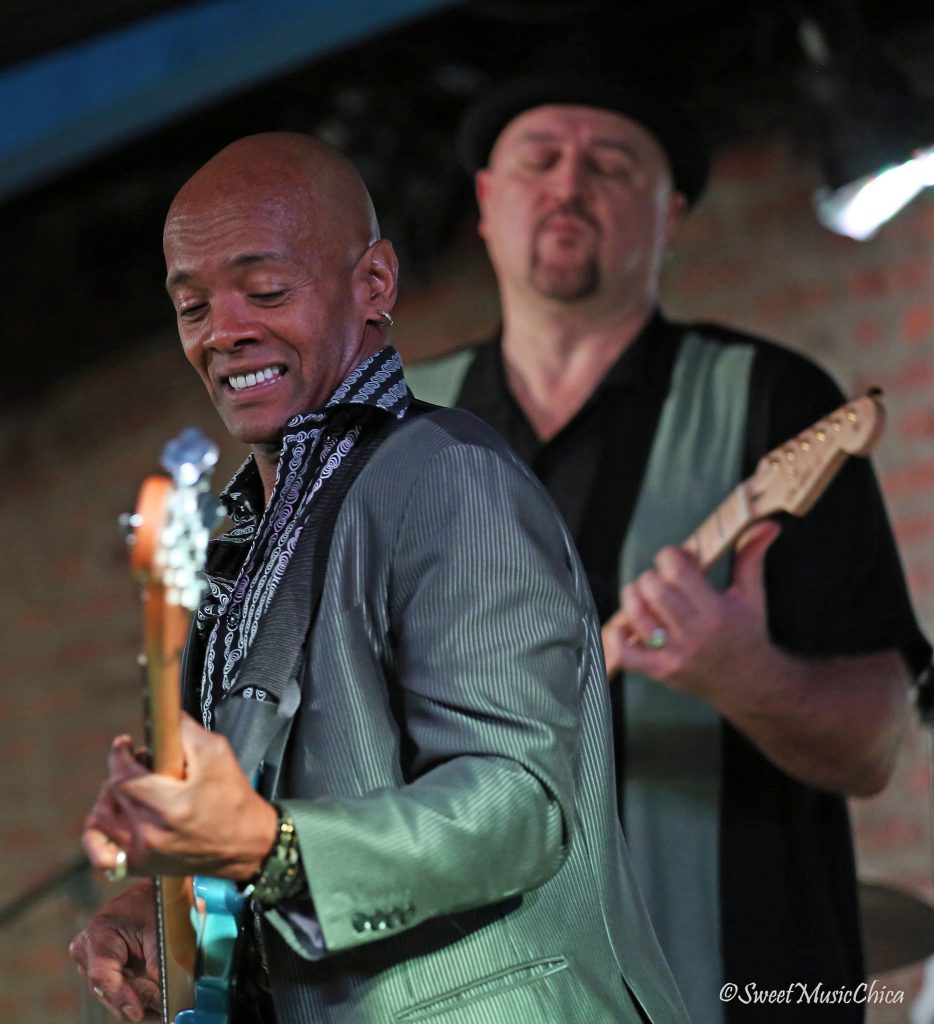 C.C. Copeland on bass and vocals, is a multi-talented performer with a wide-ranging repertory. Chicago-born and Ohio-raised, CC decided early on that the bass guitar would be his instrument of choice. Inspired by a number of R&B groups of the 60's & and 70's, his blues-drummer uncle, and his grandmother who sang in the church choir, CC started working professionally just prior to graduating from high school.  In the late 70's, early 80's, he decided to explore the music scene in his birthplace, Chicago. His distinctive live performances combine blues, jazz, R&B, soul, funk, and rock with a gospel aesthetic that comes out of his family and cultural heritage.
A musician's musician with a sincere respect for live shows and all forms of music, CC became a fixture in the Chicago scene working with John Primer, Sharon Lewis, Vance Kelly, Howard Scott, Big James, Melvin Taylor, "6 time best r&b band of northwest Indiana" TimePeace, Pistol Pete, Earth Wind & Fire Tribute Band Shining Star and Soul-Fire Band.  CC has performed to enthusiastic audiences in France, Great Britain, Switzerland, Denmark and Belgium. In addition to performing, he is a music educator who has developed and taught programs for elementary through college-age students about the roots and living legacy of blues and related genres.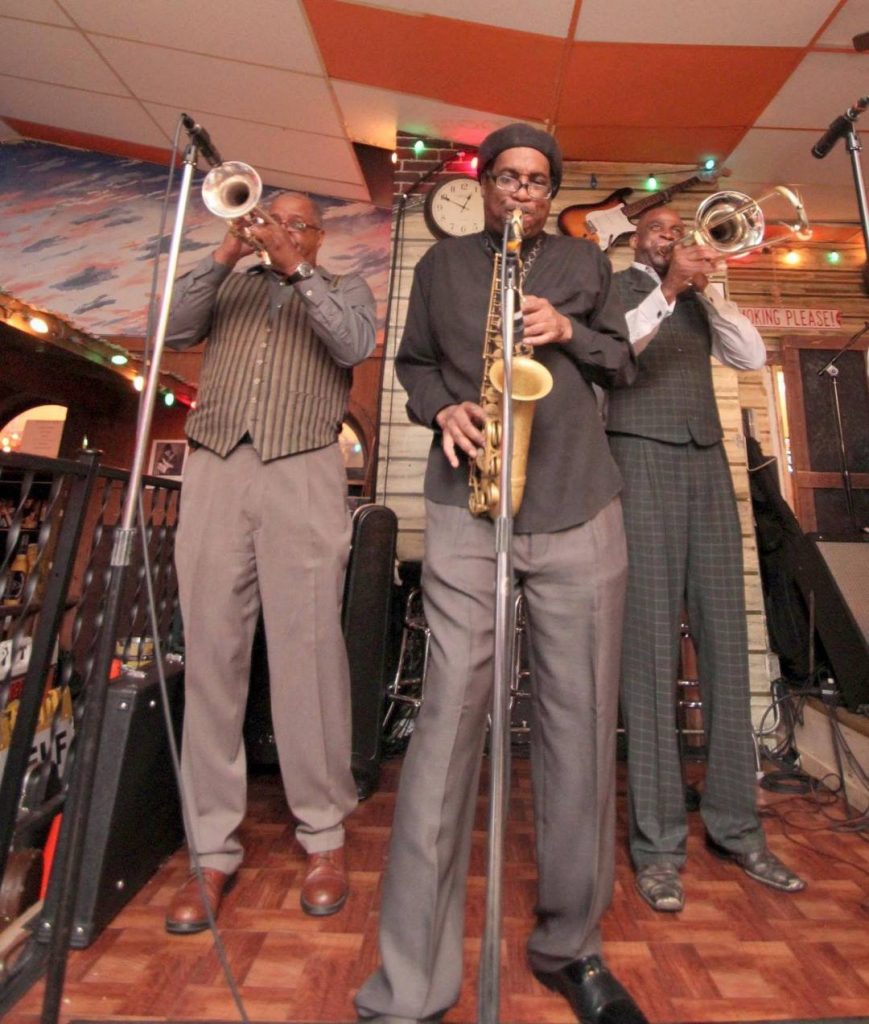 Johnny Cotton's All-Star Horns
Kenny Anderson - Trumpet
Johnny Cotton – Trombone
Garrick Patten - Saxophone
 R&B veteran Johnny Cotton anchors this lineup, featuring some of the country's hottest horn players. They've played with and arranged for a virtual Who's Who of music, from iconic legends Lenny Kravitz to Bobby Rush.
Johnny Cotton was inspired to pick up the drums in grade school after he saw his uncle drumming in a marching band. In high school, he switched to the trombone because it was the only instrument his music teacher allowed him take home.  After high school, he worked as a roadie for his brother's band until they lost their trombone player and Johnny was asked to step in. The band had Chicago wide success and played at all of Mayor Washington's events.
When the band split up, Little Milton asked Johnny to put together a horn section and took them on the road. But even before, the band had recorded an album with James Cotton.  They then joined Cotton on word-wide tours that lasted until 1991.  Afterward, Johnny played with comedian Bernie Mac until 1997 and has been with the Ohio Players ever since. 
Together, the All-Star Horns put the 'unk' in your funk!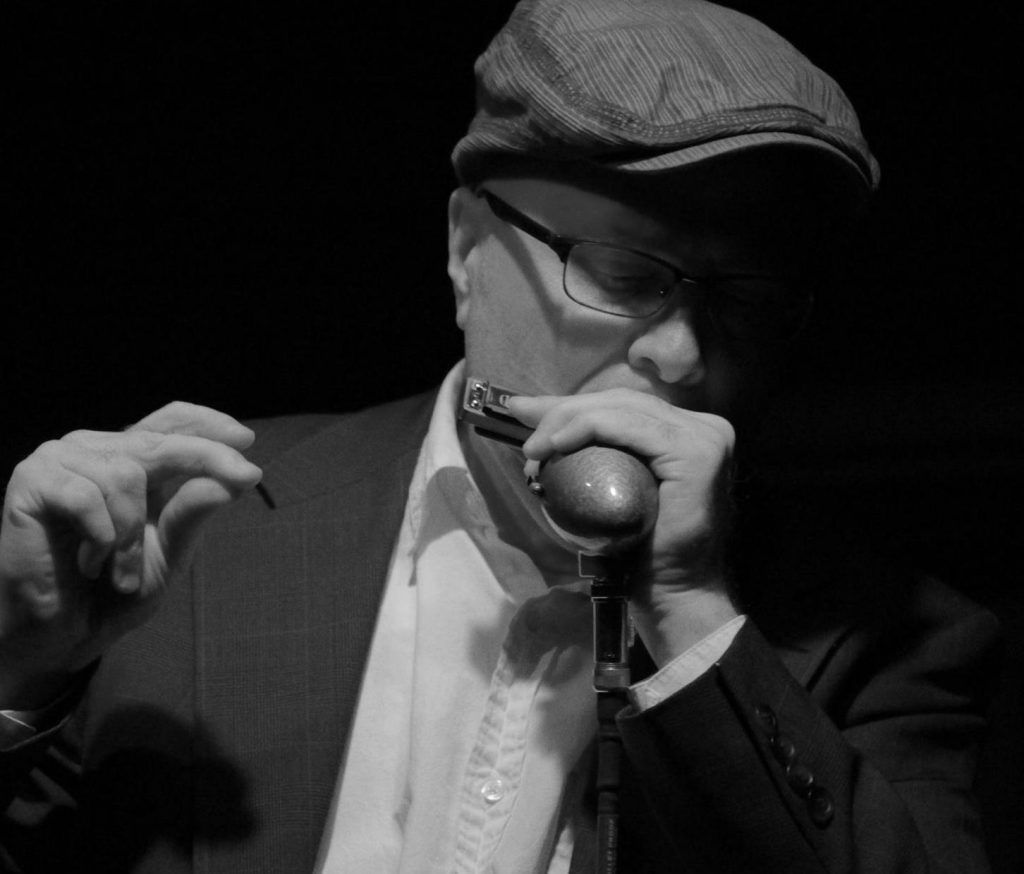 Scott Dirks is an award winning blues record producer, whose credits include work with Alligator and Delmark records, and a who's who of Chicago blues artists. Dirks is also a well respected writer, with recent credits including co-authoring the Little Walter biography, "Blues With A Feeling", which has been inducted into the Blues Hall of Fame as a Classic of Blues Literature. Dirks is also a talented musician who fronts his own blues band in Chicago.
Fernando Jones is a globally renowned musician, a Chicago Blues Hall of Famer, and a Keeping the Blues Alive Award recipient.
Fernando is a multi-instrumentalist, who started playing the Blues on the guitar when he was just four years old. Encouraged by his parents, he married his musical career to pedagogy, founding Blues Camp International for youths in Europe, North America, and Cuba.
As a Bluesman, he has performed his original compositions in the USA, Europe, Caribbean, and Asia.  
In his academic capacity at Columbia College, Fernando teaches a variety of classes and has authored "I Was There WhenThe Blues Was Red Hot".  Fernando has also been published in the scholarly Journal of Popular Music Studies.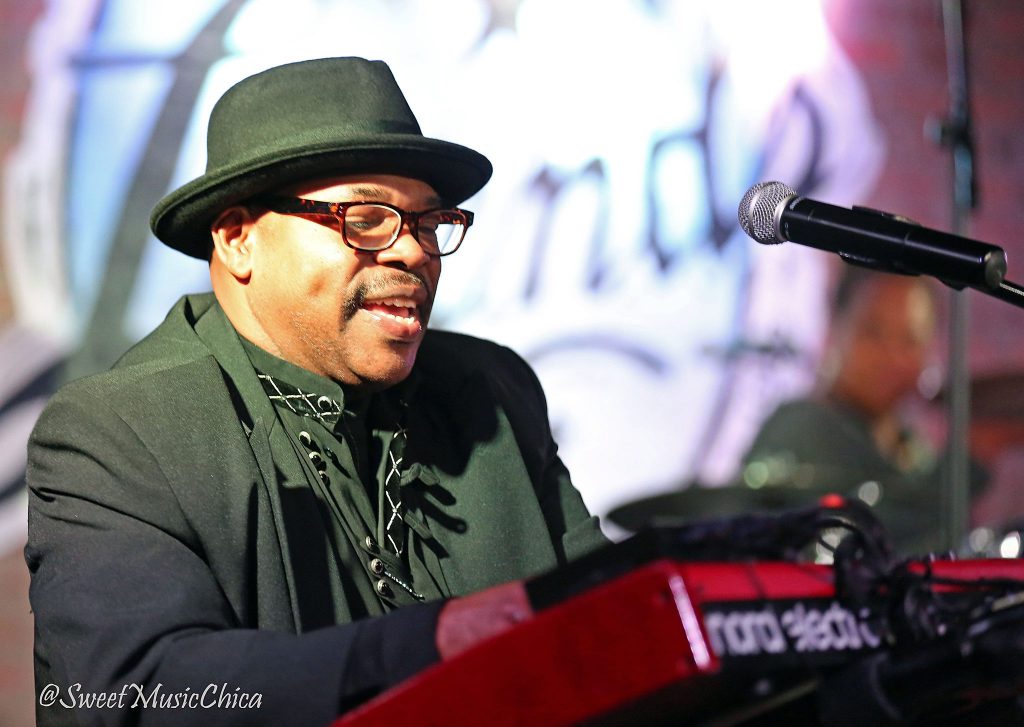 A Chicago native, Roosevelt "Hatter" Purifoy, has appeared on dozens and dozens of recordings and has performed with artists like Buddy Guy, Marvin Gaye, Son Seals, Willie Clayton and more.
Purifoy has been the go to pianist for indy blues and Delmark Records for years and can adapt his tyle to support other musicians, like Kinsey Report, Lurrie Bell, Sugar Blue, Mavis Staples, Syl Johson and many, many others.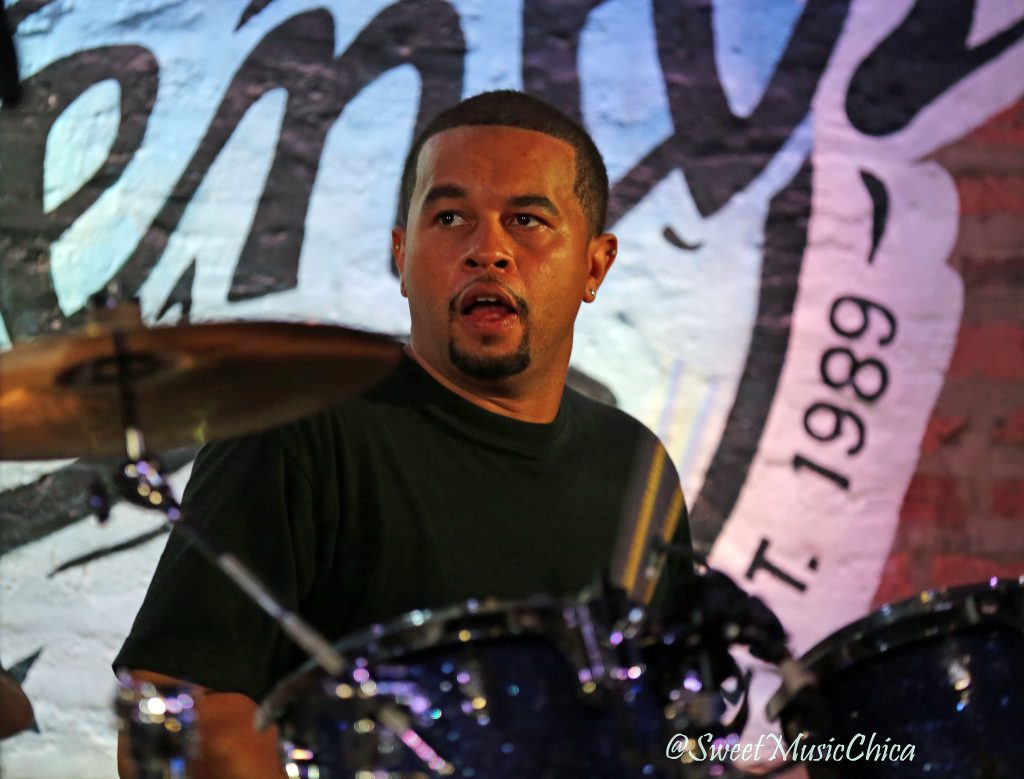 Daron was a musical prodigy who was playing drums in church at the age of five. By ten, he had formed a band and shortly afterward, he had the honor of playing at Chicago Mayor Daley's birthday party.  He soon met the late, great Ray Allison who taught him to play the blues. Daron attended Columbia College, all the while playing with renowned reggae, blues, rock, and jazz artists. Daron has been inducted into the Blues Hall of Fame and the Reggae Hall of Fame.
Blues entertainer Linsey Alexander was born in Mississippi but raised in Memphis, where he got his first guitar from a family friend. After learning the rudiments of blues playing and vocalizing from recordings by Little Milton and B.B. King (both of whom had also journeyed to Tennessee from the Delta), he saved up the money to travel to Chicago in the late '50s, and never looked back. While working in juke-joints on the city's fabled South Side, he was often given the opportunity to tour with blues greats like Buddy Guy and Magic Slim, but Alexander preferred to stay with his own style. He released an LP in 1997.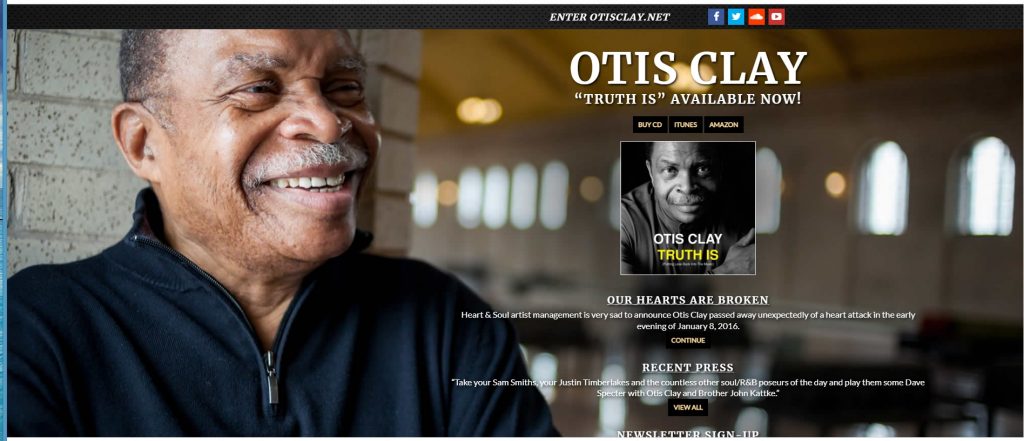 Whether bringing audiences around the globe to their feet with his fiery brand of soul and gospel or working tirelessly with community and church leaders to provide better economic and cultural opportunities for West and South Side Chicago residents, Otis Clay has proven himself to be a national treasure.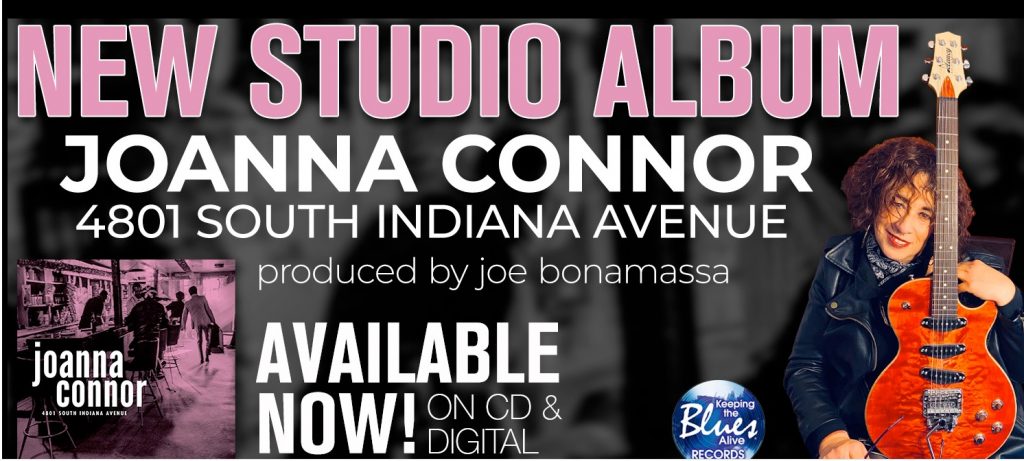 Joanna formed her own band in 1988.  Her formidable guitar playing, and distinctive soul-churning vocal ability led to her debut album "Believe It" in 1990.
National and International accolades in the press and radio media resulted in a decade of world tours, recordings, and media events
Joanna and band shared stages with Blues, Rock, and Jazz greats, including Luther Allison, BB King, Screaming Jay Hawkins, Robben Ford, Danny Gatton, Robert Cray, Jimmy Page, ZZ Top, Joe Cocker, Etta James, and others.

A founding member of Corey Dennison Band, Corey was born in Chattanooga, Tennessee, Corey Dennison spent a majority of his childhood moving about Tennessee and Georgia. As a young boy, Corey heard the powerful, soulful sounds of the Blues on late night radio programs and recalls being captivated by the music.  He spent 12 years honing his skills as a sideman for Carl Weathersby.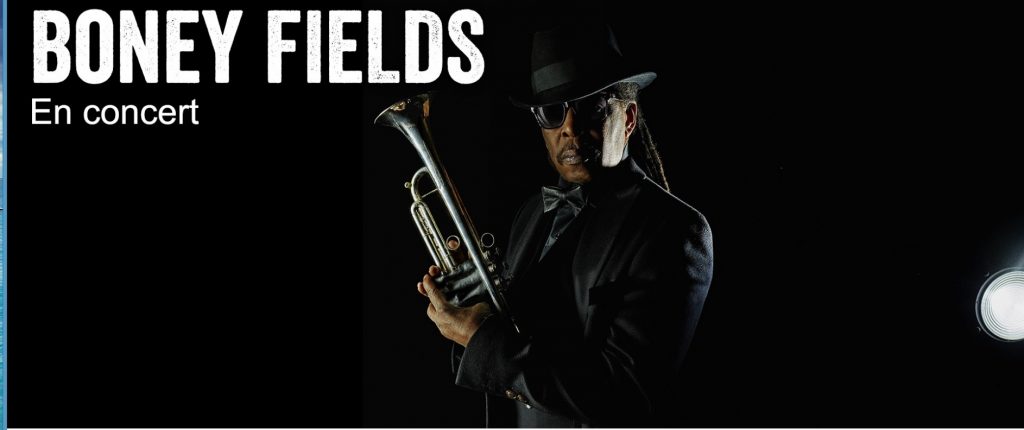 Boney Fields faithfully merges Funk and Blues, the two sides of the same Great Black Music, and he does so with the skills acquired during a career spent playing on stages all over the world.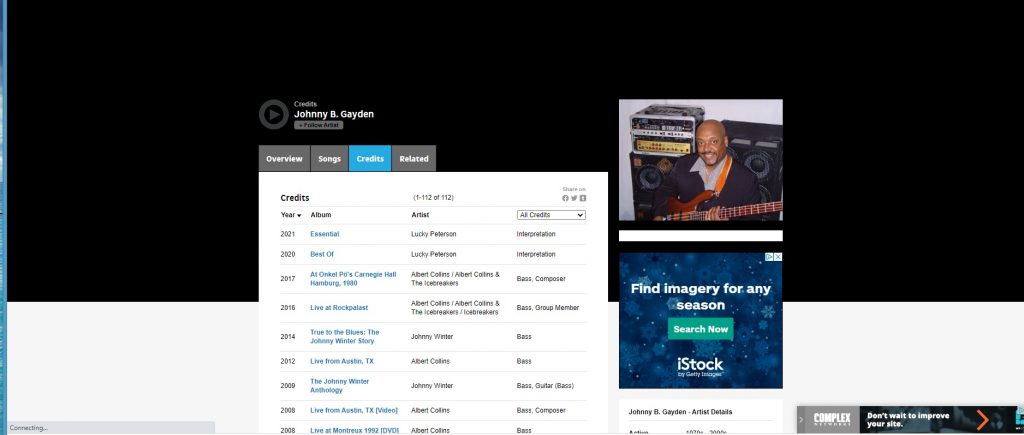 In 1979, Johnny hooked up with legendary Albert Collins – and from that point on, his career was one that most musicians only dream about. Johnny recorded nine cd's and numerous DVD's with Albert. The band also won a Grammy Award for the Alligator recording "Showdown" with Albert Collins, Johnny Copeland and Robert Cray.
He has been honored to record with Johnny Winter, Gary Moore, John Primer, Son Seals, A.C. Reed, Junior Wells and KoKo Taylor and is a nine-time W.C. Handy nominee for the instrumentalist-Bass category, a testament to his longevity as one of the best.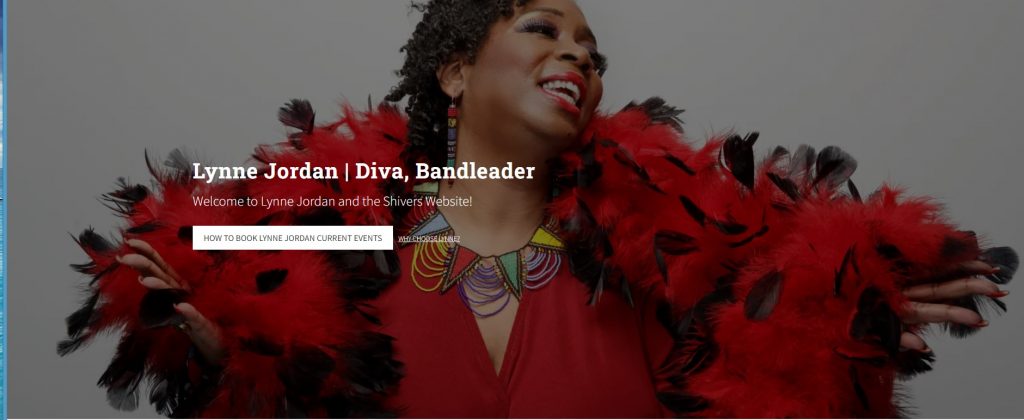 Lynne Jordan is Chicago's Favorite Jazz and Blues Diva. Lynne's soaring vocals dip effortlessly into blues, jazz, funk, rock, and even country but her bawdy personality wins over any crowd.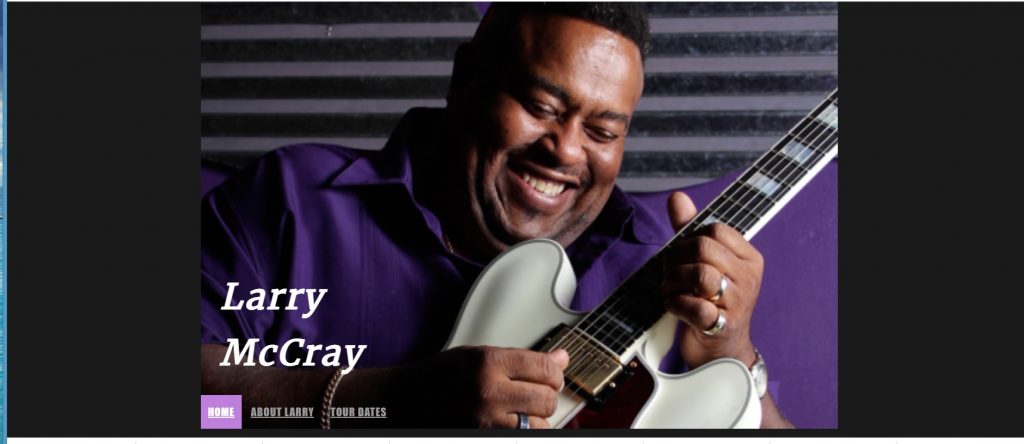 Larry McCray's heart and soul are in the blues. Of that, there's no question. It's been 25 years — award-winning ones at that — of scalding-hot and tasteful blues from the Arkansas-born, Michigan-based singer, guitarist, bandleader, songwriter and heir apparent to a lineage that includes personal influences and heroes such as B.B. King, Freddie King, Albert King.

For years, Rico McFarland played guitar for such luminous blues artists as James Cotton and Lucky Peterson, before finally launching his solo career in 2001 to much acclaim. Born on March 5, 1960, the Chicago guitarist worked with countless blues artists over the years: Albert King, Otis Clay, Syl Johnson, Artie White, Kinsey Report, and more.
In Sept 2018 Rico was inducted into the Chicago Hall of Fame. In 2001 he was nominated for a WC Handy award for his Album 'Tired of Being Alone', and received both platinum and gold records for his studio work on the  Boyz II Men single 'Water Run Dry'.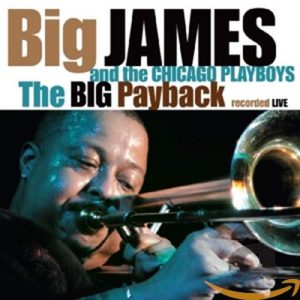 Big James & the Chicago Playboys
Bandleader, arranger, vocalist, songwriter, and trombonist Big James Montgomery and his band are a breath of fresh air on the contemporary blues scene, as so many blues bands follow the guitar-harmonica-bass-drums format. The Chicago Playboys' horn-heavy sound makes for some compelling dance music and intricate arrangements, and their live shows are generally intense affairs. The band won the 2008 Prix Blues award from the Academie du Jazz in Paris. The band continues to tour, playing an eclectic mix of funk, blues, soul, and classic R&B.

Born in Chicago, Demetria grew up surrounded by Blues music listening on records to her biggest influences including Etta James, Bessie Smith, Big Mama Thornton and most importantly, "The Queen of The Blues" Koko Taylor (no relation to the Eddie Taylor family).

Demetria started playing drums at age 14, coached by her older brothers Larry and Tim, both professional blues drummers. She played in family shows across Chicago which also featured brother Eddie Taylor Jr. on guitar. She also sang in the gospel choir at Trinity All Nations Church on Chicago's south side.
This album is a blues cake with a lot of funky joy baked into it. Back-in-the-day, a person could hear this music live in all the great clubs. For a long time now, it has been a lost art form. CBAS has brought it back in a big way, showing this music the love and respect it deserves. If you have been jonesin' for a fix of delicious funky blues with some heart, this album is for you. Do yourself a favor: When you do bring this home, listen to it through headphones first. Trust us; you really want to hear all of it.
Sign up for updates on live performances and new recordings 
Ⓒ 2021 - 2023 All Rights Are Reserved